Why Ramsgate Locals Should Choose
uSmileDental
We Proudly Offer A Wide Range of Dental Services to Ramsgate Patients Including:
Over 20 Years of
Combined Experience
Excellent
Customer Service
Easy
Parking
Work With All
Insurance Plans

Flexible Schedules &
After Hour Bookings
Payment Plans
Available
Smile Gallery
Thinking about getting a smile makeover? You want a dentist who has a proven track record of getting amazing results. Take a look at our smile gallery to see how our Invisalign and teeth whitening services can transform your smile.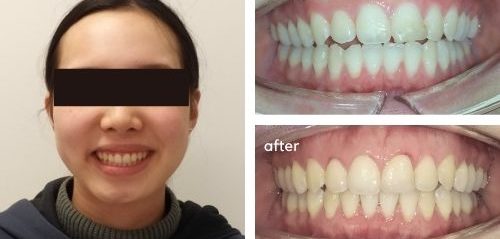 Our Dental Process for Ramsgate Patients
At uSmile Dental we conduct comprehensive Smile Assessments in Ramsgate
Book an
Appointment
Friendly
Check-up
Treatment
Implementation
Review and
Assess Outcome
Have you been searching for a one-stop dentistry service that ticks all of your boxes and improves the health and appearance of your oral environment? Drawing on decades of combined experience and training the qualified and passionate dentists at USmile Dental can transform smiles across Ramsgate. With our knowledge and experience we have the capability and equipment to complete a number of beneficial dental services including:
The fitting and installation of Invisalign braces
Building and installation of dental implants
Orthodontic works
Check-up appointments
And much more!
Thanks to our all-encompassing service that includes personalised teeth whitening Ramsgate residents of all ages can have healthier teeth and gums that will look and feel the best they ever have.
Your Friendly Ramsgate Dentist
At uSmile Dental we know the importance of the appearance and condition of teeth to your confidence. Therefore, on top of our restorative dental solutions and service, the uSmile team can also deliver spotless teeth whitening to Ramsgate locals and beyond.
Teeth staining can be caused by drinking coffee, tea, and red wine, or by smoking. Staining can impair the natural colour of the teeth, causing them to look aged or unsightly. Your friendly Ramsgate dentist is able to remove stains on your teeth without damaging your teeth. Our teeth whitening services return your teeth back to their natural condition. To learn more about our dental services call our clinic today on 02 8084 9118.
What to Expect at Your First Dental Appointment?
When you arrive, you'll receive a warm greeting and a smile. Your dentist will conduct a dental examination and if required, we'll also take X-rays or 3D digital scans of your smile for further diagnosis. We'll explain the results of your assessment and develop a personalised treatment plan for you, clearly explaining your costs and options so you can make an informed decision about your smile.
Driving Direction to Dentist from Ramsgate
Suburbs we cater for nearby Ramsgate
Book an Appointment Today For a Healthy and Confident Smile
02 8084 9118
Accreditations
Copyright © 2023 USmile Dental. All Rights Reserved. | Digital Agency - Supple