Why Bexley Locals Should Choose
uSmileDental
We Proudly Offer A Wide Range of Dental Services to Bexley Patients Including:
Over 20 Years of
Combined Experience
Excellent
Customer Service
Easy
Parking
Work With All
Insurance Plans

Flexible Schedules &
After Hour Bookings
Payment Plans
Available
Smile Gallery
Thinking about getting a smile makeover? You want a dentist who has a proven track record of getting amazing results. Take a look at our smile gallery to see how our Invisalign and teeth whitening services can transform your smile.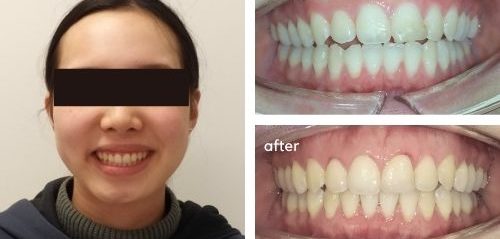 Our Dental Process for Bexley Patients
At uSmile Dental we conduct comprehensive Smile Assessments in Bexley
Book an
Appointment
Friendly
Check-up
Treatment
Implementation
Review and
Assess Outcome
Are you looking for a dentist near Bexley to help you improve the appearance and health of your mouth? USmile Dental are your local dentists, offering a full suite of services including children's dentistry, cosmetic dentistry, wisdom teeth removal, teeth whitening, root canal treatment and dental implants to Bexley locals, to name just a few!
Invisalign Solutions for Bexley
One of our areas of expertise at USmile Dental is cosmetic dentistry, allowing Bexley locals to attain the smile of their dreams. For some, this might be teeth whitening, while for others it may be straightening their teeth using Invisalign. Bexley residents wanting a quicker, more discreet alternative to braces will appreciate the comfort and look of Invisalign. Simply take it out when you want to eat and smile with confidence when wearing it, knowing you're not flashing bulky wires!
Bexley Orthodontic treatment
A straight smile is not only attractive, but also ensures improved oral health. Crooked teeth are often hard to reach when it comes to cleaning, allowing plaque and bacteria to accumulate. Our orthodontic treatment provide Bexley residents with customised orthodontic solutions, ensuring you have a comfortable experience and can enjoy a gorgeous straight smile by the end of your treatment. The straight smile you will attain by the end of your treatment will also make brushing and flossing easier, allowing you to maintain your oral hygiene to the highest standards.
Teeth Whitening for Bexley Smiles
Have you looked at your teeth in a mirror and felt as though they have lost their shine? Improve the appeal and appearance of your teeth thanks to the professionals at USmile Dental! Able to strip away staining without damaging the teeth or the protective enamel our bespoke teeth whitening gives Bexley locals a smile that they can be proud of and that lasts!
For a dentist near Bexley North or Bexley who can do it all, look no further than USmile Dental! Simply call us on 02 8084 9118 to make an appointment with our friendly team today.
Driving Direction to Dentist from Bexley
Suburbs we cater for nearby Bexley
Book an Appointment Today For a Healthy and Confident Smile
02 8084 9118
Accreditations
Copyright © 2023 USmile Dental. All Rights Reserved. | Digital Agency - Supple