Why Campsie Locals Should Choose
uSmileDental
We Proudly Offer A Wide Range of Dental Services to Campsie Patients Including:
Over 20 Years of
Combined Experience
Excellent
Customer Service
Easy
Parking
Work With All
Insurance Plans

Flexible Schedules &
After Hour Bookings
Payment Plans
Available
Smile Gallery
Thinking about getting a smile makeover? You want a dentist who has a proven track record of getting amazing results. Take a look at our smile gallery to see how our Invisalign and teeth whitening services can transform your smile.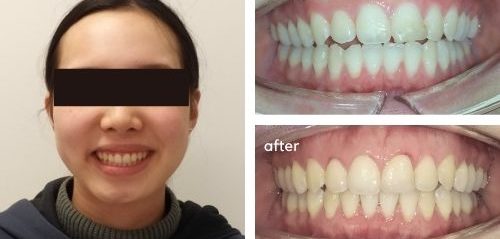 Our Dental Process for Campsie Patients
At uSmile Dental we conduct comprehensive Smile Assessments in Campsie
Book an
Appointment
Friendly
Check-up
Treatment
Implementation
Review and
Assess Outcome
Are you looking for a dental clinic near Campsie that caters to your entire family's needs? USmile Dental are the reliable local dentists to count on, offering services from children's dentistry to dentures for the elderly.
Sydneysiders choose us for a variety of reasons, with some of our biggest drawcards being the we offer, 20 years of combined experience, excellent customer service, convenient parking, compliance with all insurance plans and flexible appointment times.
We offer a full suite of services spanning preventative, restorative and cosmetic treatments. Our preventative services include general check-ups and specialist children's dentistry to ensure lifelong oral health, while our restorative services include procedures such as wisdom teeth removal and root canal treatment. We also cater to your aesthetic concerns, offering cosmetic services such as teeth whitening, braces and Invisalign. Campsie residents wanting to straighten or brighten their smile can do so safely and comfortably at USmile Dental! Invisalign in particular not only provides an aesthetic enhancement but allows you to clean your teeth more effectively and prevent the build up of bacteria that often occurs for those with crooked teeth.
USmile Dental are committed to providing dental services to the whole family, so contact us today on 02 8084 9118 to make an appointment with our friendly team. Whether you need basic teeth cleaning or a long-term treatment like orthodontics, USmile Dental are your local team of dental professionals to rely on.
Driving Direction to Dentist from Campsie
Suburbs we cater for nearby Campsie
Book an Appointment Today For a Healthy and Confident Smile
02 8084 9118
Accreditations
Copyright © 2023 USmile Dental. All Rights Reserved. | Digital Agency - Supple